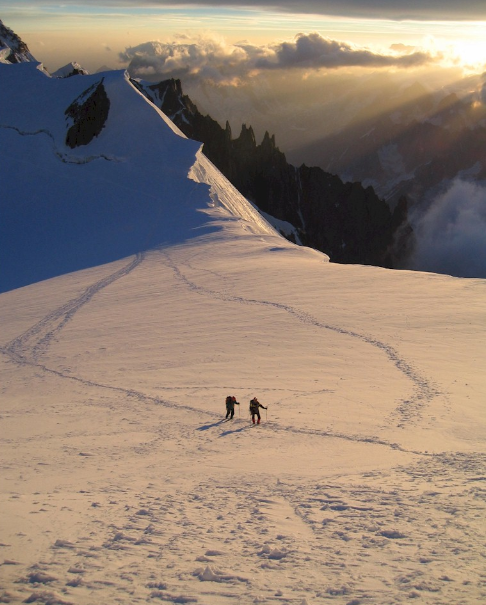 Our objective was simple - TO REACH THE SUMMIT OF MOUNT KILIMANJARO FOR THE NEW MILLENNIUM. Although our objective was simple achieving this goal was not. This web site was originally created as an attempt to tell our story, educate and excite others and in some way express to those who visited this site the incredible emotion that comes from being on and around these incredible creations we call mountains.
The Beginning - Jason and I have been friends since childhood. We grew up in the same neighbourhood in North York which at that time was a suburb of Metropolitan Toronto. We had a group of friends which went through Junior High and High School together. In 1996 we both toured Europe for a month. Before visiting the homeland of Friuli in Northern Italy we visited Jason's uncle in Lausanne Switzerland he brought us to his chalet in Martigny. Many thanks to him and his family for their incredible hospitality. For someone who had never seen many mountains before it was an amazing experience. Imagine a chalet on a mountain and when you look out the window you see another grass covered mountain and nestled into the cliffs are small towns - the Swiss truly live in heaven.
We were determined to see Mount Blanc so we drove to Chamonix just inside France and it was a cloudy awful day. We were undecided about taking the cable car up 3842 meters to Aiguille Du Midi. From Aiguille Du Midi you could look out and see Mount Blanc. Basically we thought it would be cloudy and the ride up would be for nothing. As fate had it a boisterous American came by and overheard us debating and said that the clouds are not very dense and that we would regret not going up. His face had that gleam that we would later have on the way down.
So it was decided, we paid and after taking two cable cars 4 KM up I was forever mesmerized by the view.

There was a lone hiker on the observatory when we were there and as he looked over the edge his words, (which he spoke out loud to himself) summed up our feelings at that moment "Ce` Magnifique".
In late 1998 Jason called me and mentioned that he had been reading about the Seven Summits and those that had achieved climbing each of the highest mountains on each continent. Jason had learned of a millennium summit of Kilimanjaro and he asked me if I was interested. I immediately said "Yes". This is where we began. This was originally written February 1st 1999. On January 1, 2000 we were back in the clouds on the summit of Mount Kilimanjaro.